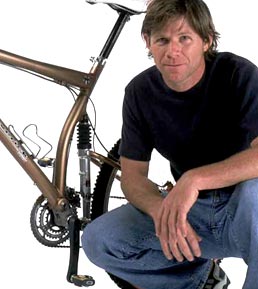 BACKGROUND
Maverick was born of a simple idea – to make a better bike. We didn't start with a business plan or a marketing scheme, just the pure and straightforward desire to design and build the kind of bike we'd like to ride in the hills above Boulder.

"I wanted one. Paul wanted one. It was really that simple," remembers co-founder, Frank Vogel. "We just made the bike because it's what we wanted."

And so back in 1999 Maverick began in Paul Turner's garage. The story is often told: In the late 80's Paul took his expertise and skills as a Honda motocross mechanic and revolutionized the world of cycling by inventing RockShox. Tired of the corporate culture he moved on and by '99 began drafting and designing a suspension bike. Turner and Vogel got together not to build a business, but to build their dream mountain bike.

Vogel, a skilled and experienced machinist and prototype builder, helped Turner design and develop a unique rear suspension, and after countless iterations, they had a bike to field test. Paul and Frank started to ride what they called the ML 5, and others took notice. Rumors of the bike circulated and friends wanted to ride it…then have one. A few more redesigns and they arrived at the bike we know as the ML7. By 2000 they'd built two dozen for buddies and colleagues. The design focused on elegant, efficient manipulation of the rear wheel path, what they called MonoLink suspension. The ML7 relied on the industry's first integrated rear shock—the shock was built into the bike, not just bolted on. The MonoLink suspension offers unmatched lateral stiffness, and allows the front and rear wheels to travel in virtually the same path when active. This is now known as Parallel Path Technology.

Turner and Vogel had set out to build two bikes. Then word got out and a business was born. Though the bike wasn't for everybody, free thinkers embraced the ingenious simplicity and logical innovation. The ML7 tossed out conformity and invented its own class of mountain bike – one bike that is freeride-ready, cross-country efficient, and chargeable on the downhills.

As the business evolved, a small cadre of like-minded designers, engineers, and builders came together. We embraced what worked, and pioneered our own technology when needed. This approach lead us to the sub-four-pound six-inch-travel fork (DUC 32), a design that today still sets the standard for what front suspension can do.

The inner motivation is to build what works the best. The idea may not be geared towards the masses and not everyone agrees with our ideas. In fact, many don't "get" our bikes. Our company is built around those who do and for those willing look at mountain bikes with a fresh perspective. But for the passionate we've stayed the course – building the bikes, forks, and components we (and you!) want to ride and it's helped us build a loyal posse. Over the years we've realized that as unconventional as we are, so are the folks riding our bikes. Thanks for being part of the ride and allowing us to turn our ideas into reality.